I can't believe it's been a week again since my last post. And what a week it has been! Both kids started school last Monday, Tuur is going half days, Nora fulltime. They've been awesome, even though Nora has been having a fever since day 1 and has been missing two days of school already. It's been an exciting first week. And for me: just one more week before I'm going back to work, and I can't help feeling a bit like I'm running out of time. There is so much more I wanted/needed to do. But I will take advantage of this last week.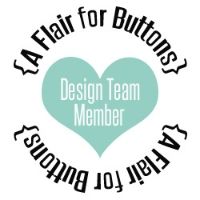 On another note: I'm happy to announce that I'm joining the A Flair For Buttons design team. I discovered A Flair For Buttons a few years ago, and I've ordered a few times from Shelley's Etsy Shop in the past. Her flairs are amazing. So when Shelley asked me to join the team, I really couldn't say 'no'.
I'm very excited to be part of A Flair For Buttons' amazing team and happy to be creating with these beautiful gems.
Els.